It is important that artificial football pitch maintenance in Newtownabbey BT39 9 is carried out if you want to keep your surfacing in the best possible condition. It is a duty of care for the caretaker or keeper of an artificial grass soccer field to ensure that it is regularly tested and maintained in order to meet the requirements set out by FIFA and the FA. A top-quality artificial football pitch maintenance package should be in place months before the synthetic surface has been completed and should be carried out on a regular basis. Organisations in the UK that have benefitted from a good quality upkeep program include:
Schools - Use of drag brushes and mats on 2G sand-filled synthetic pitches in primary and secondary school in the UK, ensuring the infill is distributed more evenly around the fake grass surfacing.

Colleges Decompaction of the sand-filled system to aid drainage and porosity of synthetic soccer surfacing.

Leisure Centres - Power grooming to improve safety and performance of sports surfacing.

Universities - Topping up sand and rubber infill on the 3G surface to ensure the facility meets playing characteristics.

Sports Clubs - Chemical treatment to prevent and rid growth of moss algae and weeds.

Athletic Centres - Thorough maintenance of artificial football field MUGAs https://www.artificialpitchmaintenance.co.uk/muga/newtownabbey to ensure good use, as well as cleaning of athletics track facilities in Newtownabbey.
We offer a range of versatile upkeep services for outdoor sports facilities which help to keep the surface in the best possible condition so that players have an enjoyable experience. Please complete our contact form if you would like to speak to one of our experts about the costs of our cleaning and maintenance work.
Maintenance of Football Synthetic Turf Surfaces
With many organisations asking 'Do I need to maintain my artificial football pitch?' It is important to stress the importance of a thorough maintenance schedule. There are now many different designs and specifications of artificial soccer turf and therefore it's important that the upkeep package is bespoke to each type of surface. For example a 2G sand filled or sand-dressed carpet will require different materials when topping up the infill in the fibres. A 3G, 4G and 5G surface will require a sand and rubber infill which needs redistributing, decompacting and replacing on a regular basis to make certain that the carpet passes the performance and safety tests.
We carry out a range of upkeep services for soccer synthetic surfaces to ensure that your surfacing remains in great condition. The upkeep required will depend on the type of surface which you have installed; our experts can talk you through a maintenance plan to make sure that your surfacing performs like new. If you have neglected the facility and the surfacing is now beyond repair, we can also carry out resurfacing in Newtownabbey BT39 9 and surrounding areas, to get your facility back to its former glory.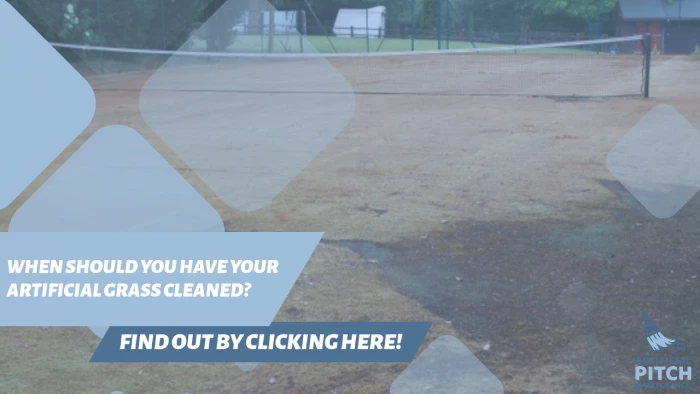 Waterlogged Football Pitch in Newtownabbey
The thorough and regular sports pitch maintenance will ensure less money spent on repairs and a carpet which works to its maximum potential for much longer. A well-maintained surface will remain porous and SUDs compliant with a permeable membrane allowing the free drainage of surface water into the substrata. What happens when an artificial surface isn't maintained correctly? The infill can become contaminated with mud and dirt causing the field to hold water and possibly waterlog. This can then become a breeding ground for moss, algae and weeds which are much easier to proactively prevent than to rid with reactive servicing. We always recommend carrying out routine 3G pitch maintenance https://www.artificialpitchmaintenance.co.uk/3g-pitch/newtownabbey to keep your soccer facility safe and make sure any problems are dealt with as quickly as possible.
For more information on synthetic soccer surfaces, rugby, athletics and the different types of artificial football pitch maintenance required please fill out our contact form today. We will be in touch with all the cleaning, repairs and upkeep advice and can put a bespoke package in place to ensure your facility performs well and remains safe.
How to Maintain your Football Pitch Near Me
If you are wondering how to maintain your football pitch, we have a few steps for you to follow:
Redistribute the sand infill by regularly drag matting or drag brushing the surface

Treat the surfacing with a chemical moss and algae treatment to prevent contamination

Deep clean the facility to maintain the porosity

Carry out regular tests and inspections to check the safety of the facility

Repair the surfacing where necessary

Carry out rejuvenation to prevent waterlogging and flooding
Our team of specialists can complete various services to maintain your synthetic soccer field and keep it performing well. If your facility in Newtownabbey and surrounding areas, is beyond repair, you may require a full resurface. Our contractors can carry out resurfacing and upgrading of football pitches to ensure the facility meets your needs and requirements.
What is the Cost to Maintain a Football Field?
The cost to maintain a synthetic football field can vary depending on a number of factors. One of the biggest factors which can implement the price of preservation servicing is the size of the field. Obviously, a full-sized football pitch will cost more to clean and maintain when compared to a small 5-a-side facility. Another aspect which can affect the cost is the current condition of the facility near me. If your facility has been neglected and is full of contamination, rips and tears, a complete resurface may be required which can cost much more than a deep clean or rejuvenation. By carrying out upkeep regularly, you are able to reduce the price of repairs in the future.
Other Services We Offer
We can carry out a routine upkeep plan at competitive prices to meet your budget and keep your synthetic sports field in the best possible condition. If you would like to discuss the price of artificial football pitch maintenance in Newtownabbey BT39 9 or you require more information, please fill in our enquiry form. Once we receive your enquiry we can get back to you with details on the upkeep services and a quote.