With many artificial rugby pitches in East Sussex BN26 6 being installed on a regular basis it is important to ensure that the surfaces are regularly tested and maintained. The IRB, RFL and RFU national governing bodies set out specific performance and safety guidelines in order to make certain that synthetic sports surfacing is suitable for play. We can provide upkeep for different surface types including 3G synthetic grass and 4G pitch maintenance in East Sussex. For more info on 4G pitch maintenance please click here https://www.artificialpitchmaintenance.co.uk/4g-pitch/east-sussex.
Artificial rugby surface maintenance should be carried to ensure the pitch meets the guidelines set out by the national governing body which is listed below.
Player/Surface Interaction - Shock absorption, deformation, head injury criteria, energy restitution, Traction/rotational resistance, abrasiveness, abrasive friction.

Player/Surface Interaction - Slip resistance (EN 14837: 2003 using studded test foot), sliding distance (BS 7044 Section 2.2 Method using studded 0.25 m - 0.75 m test foot as specified by FA).

Ball/Surface Interaction - Ball rebound, ball roll, rugby football pace.

Properties of Artificial Grass Surfacing -Tensile properties of carpet, tuft withdrawal, pile height and weight meeting IRB Type 22 Regulation.
The safety and performance tests can be met years after the 3G pitch has been installed if a bespoke synthetic surface maintenance package is put in place from the start. This will involve power grooming, use of drag mats and brushes, decompaction, deep cleaning, moss and algae treatment, repairs, recycled rejuvenation, topping up infill and a full resurface. Be sure to contact us if you would like to talk about the costs of professional cleaning, repairs and upkeep for your sports facility. Fill in our enquiry form and a member of our team will be in touch with you as soon as possible.
Maintenance to Rugby Synthetic Grass Surfacing Near Me
As a synthetic rugby pitch is normally laid with a larger pile height of 50-60mm, it's important that the fibres contain the correct infill levels. When the sand and rubber infill in a third-generation surface becomes too low, excessive wear may occur on the fibres which will damage the surfacing and affect the performance. A rejuvenation will help spread the synthetic turf infill evenly across the surfacing and insure it doesn't become too compact within the fibres. If this does occur the drainage is likely to suffer by decreasing the porosity. An alternative method of synthetic turf maintenance is a deep clean which fully removes the contaminated infill and replaces it with fresh sand and rubber. We provide artificial pitch maintenance services https://www.artificialpitchmaintenance.co.uk/east-sussex to suit various budgets and surfacing types at schools, colleges, leisure centres and sports clubs.
For more information regarding the upkeep of manmade surfaces in East Sussex BN26 6 and surrounding areas, within the UK and the cost of maintaining synthetic pitches with bespoke packages, please fill out our contact form today. We'll be in touch with all the necessary advice and preservation package prices which can dramatically improve the appearance and performance of your artificial facility.
Rugby Pitch Maintenance Schedule
As experts in the installation and preservation of sports pitches, we are able to create a rugby pitch maintenance schedule which works and keeps your facility in great condition. We recommend cleaning the synthetic field near me, regularly in order to distribute sand infill and maintain the porous properties of the field. Regular care services should be carried out to make sure that the original qualities of the facility will remain throughout the lifespan of the field. Our upkeep care scheme includes a variety of different services to revitalise your field and lengthen the facility's longevity.
Artificial Rugby Surface Repair in East Sussex
If you find that your area is holding water or there are rips or tears on the surface, it is important to get the manmade sports surfacing repaired straight away. Leaving damages to develop further can create costly repairs like resurfacing. Generally the earlier you fix the problems on the facility in East Sussex and surrounding areas, the cheaper it will be; this is why we recommend carrying out regular inspections of the sports field. We carry out seam and joint repairs in the event the surface has become vandalised. We also carry out decompaction or rejuvenation https://www.artificialpitchmaintenance.co.uk/rejuvenation/east-sussex to clean the infill and redistribute it evenly as a way to improve the facility's permeability.
The cost of artificial rugby surfacing repair can alter depending on a variety of different factors including the existing condition of surfacing and the area size. If you've got a full-sized pitch which is in need of rejuvenation, this will generally cost a lot more than a smaller-sized facility. Similarly, if your facility requires a full resurface rather than small seam repairs the cost to renew the field will be much more.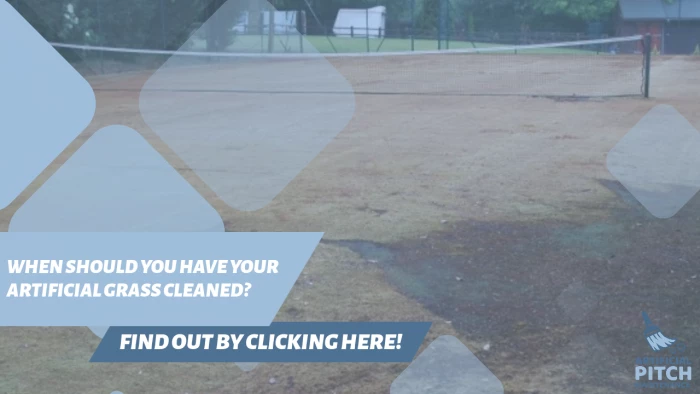 Other Services We Offer
Message Our Team
If you are interested in having our expert team members carry out artificial rugby surface maintenance in East Sussex BN26 6 to restore the original properties of your sports pitch, please fill out our contact box. Once we have your enquiry we can reply back to you with additional information on restoration and repairs along with details on our